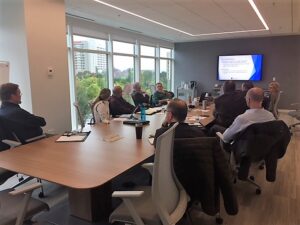 Are you a business owner whose annual revenue is $1M or less?
Do have a plan for the time when you eventually leave your business?
Business owners, especially those of small, hands-on companies, sometimes don't find time to get around to creating and carrying out an exit plan, even though they know it's critical to their future, that of their families, their employees, and perhaps even their communities. And it's part of your legacy!
But there's a simple solution….
Please contact me to join us, via Zoom, for the next meeting of our new Exit Planning Peer Advisory Board (PAB), designed specifically to help small business owners bring exit planning onto your radar. Learn the steps to prepare for what will likely be the largest financial transaction of your life. The process takes years. What better time than now to take that first step?
Exit Planning Peer Advisory Board Meetings
Fourth Wednesday of February, April, June, August, October, and December (dates adjusted for holidays)
Time: 7:30 – 9:00 AM MST
Location: Via Zoom
Contact me now to arrange to join us. You'll be provided with Zoom login details once you reply.
What is a Peer Advisory Board?
Bob Zarlengo has been facilitating a PAB of larger businesses for several years. It's proven to be a highly effective, straightforward way to streamline the development of an exit strategy and efficiently stay on track in working that plan. It brings together business owners – all looking towards their own exits – who share challenges, solutions and insights. All that business experience and expertise at the table yields countless innovative ideas, without the hassles of reinventing the wheel. And you'll find that, in addition to instilling confidence in your future, having an exit plan in place significantly benefits your business today. Participants meet together every other month, either in person or via Zoom, then have an individual consultation with Bob during each off month.
Requests to participate from smaller business owners revealed that your needs and circumstances are unique and need to be addressed accordingly. So now there's a PAB just for you!
Resources
In the meantime, check out our online resources and assessments that will help you gauge where you and your business stand in terms of readiness for your exit.
Comments from current participants about the value they find in the PAB include:
The opportunity to talk through challenges with a group of your peers who are facing, or have dealt with, the same issues.
Being held accountable or challenged to address difficult business decisions and supported in doing so.
Questions? Get in Touch 
If you'd like to discuss whether this unique opportunity is a fit for you and your business, please feel free to email or call Bob directly at 303-589-1613. Or simply attend our next meeting and see for yourself!